It's been a while since I had my hands on a new gadget. Fortunately, the PR team behind Blaupunkt, one of the oldest audio equipment manufacturers in the world, reached out to me with an opportunity. Blaupunkt recently launched a wide range of smart TVs in India, and I got a chance to review the 43 inch, UHD 4K Android TV (43CSA7070). I don' think we reviewed any smart TVs on our website, and so, this makes our first review on an Android TV. So, bear with me, as things get pretty interesting.
Ideally, when you buy a smart tv these days, purchasing an external speaker has become mandatory, but at least over the past year, brands have been including internal speakers with more audio output. The recent Blaupunkt Android TVs took it to another level. It boasts a whopping 50W speaker that supports Dolby Digital, which takes the audio experience to the next level. Just to give a glimpse of other features, let me jot down the key specifications.
Blaupunkt 43 inch UHD smart tv Key Specifications
43 inch, UHD (4K) display, 60FPS, HDR10+
50W speaker that supports both Digital Dolby and DTS TruSurround technologies
2 GB RAM | 8 GB ROM
Powered by MediaTek Quadcore Cortex-A53 processor
Mali-G52MC1 GPU
Android v10
Now, let's head into the review, shall we?
Blaupunkt 43 inch Android TV Review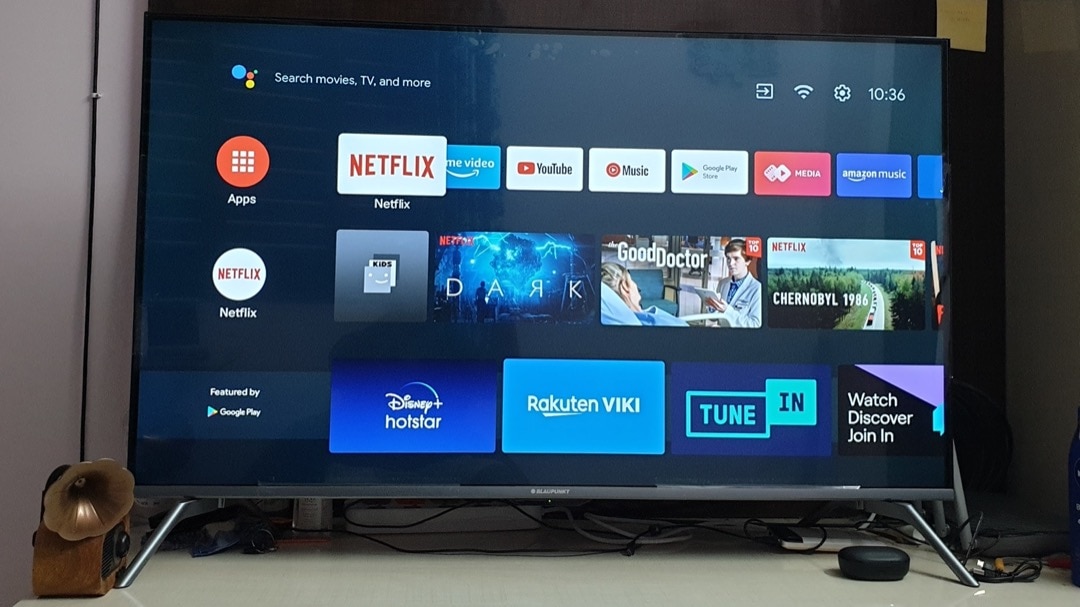 Design & Build
Like the phones have become bezel-less over the years, the smart TVs have also picked up the same design trend. The recently launched Blaunpunkt 43 inch UHD smart tv features a bezel-less design, but not necessarily the thinnest bezel-less design you may notice in Samsung, TCL, and other flagship Tv makers. But it does offer a great viewing experience and there's no doubt in it.
There are 4 speakers (box type) on the bottom side to provide a truly immersive audio experience. As mentioned before, the tabletop stand has an adequate height to let the audio from all sides, and that's why I went ahead with it to experience it.
Coming to the build quality, the entire casing and the tabletop stand are plastic-made, and the quality is as same as most TVs in the same budget range. I just wish the tabletop stand is made of light metal instead of plastic, but that's just what I fancy.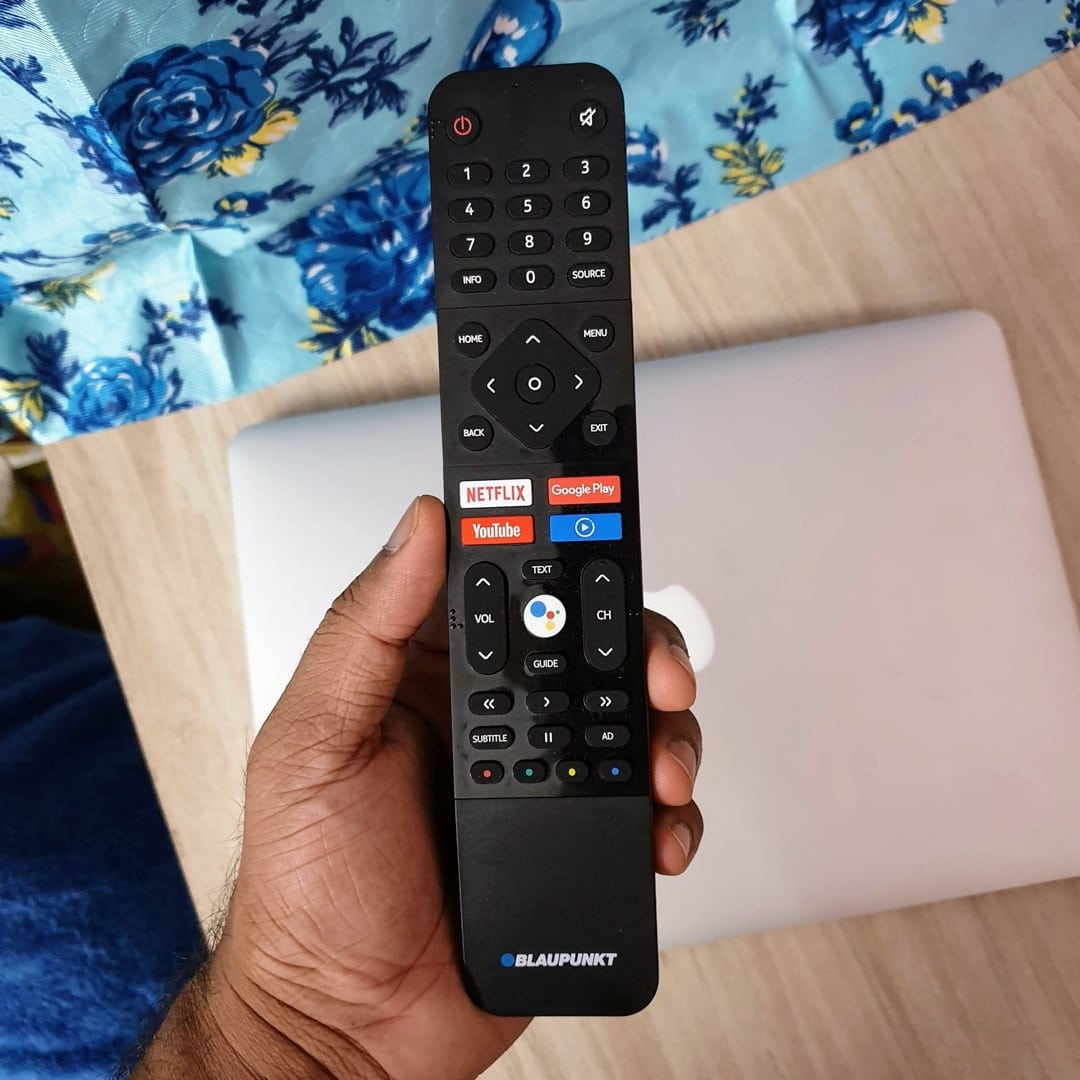 Anyways, the build quality of the TV's remote is pretty good. It's a huge one, and it's quite sturdy. I personally don't like it as I find it quite difficult to reach the right buttons. I immediately moved to the Android TV app, but that doesn't mean the remote is faulty or doesn't work. It has got all the shortcuts and hotkeys you may need. But it's definitely not something I'd use even in near future. I'm more comfortable holding a minimalistic remote that has got the required buttons.
Display & Audio
From the specifications, it's quite evident that this TV features a 4K (UHD) display and supports HDR10+ as well, but what really matters is how these specs get translated into the experience.
Display – Not the best, but good
Right after the TV was installed by the service engineer, I immediately got into my beanbag, set up the TV (which took me less than a minute), and opened Netflix to watch some 4K HDR content. A lot of web series and movies on Amazon Prime also support this format, so I was switching between these apps to see the quality. Before I tell you that, let me talk about the audio & picture settings.
I got so used to accessing the TV settings through the Android TV app, and one thing that I can't do is to access the menu that lets you change the picture and audio settings. You can only access this setting through the remote.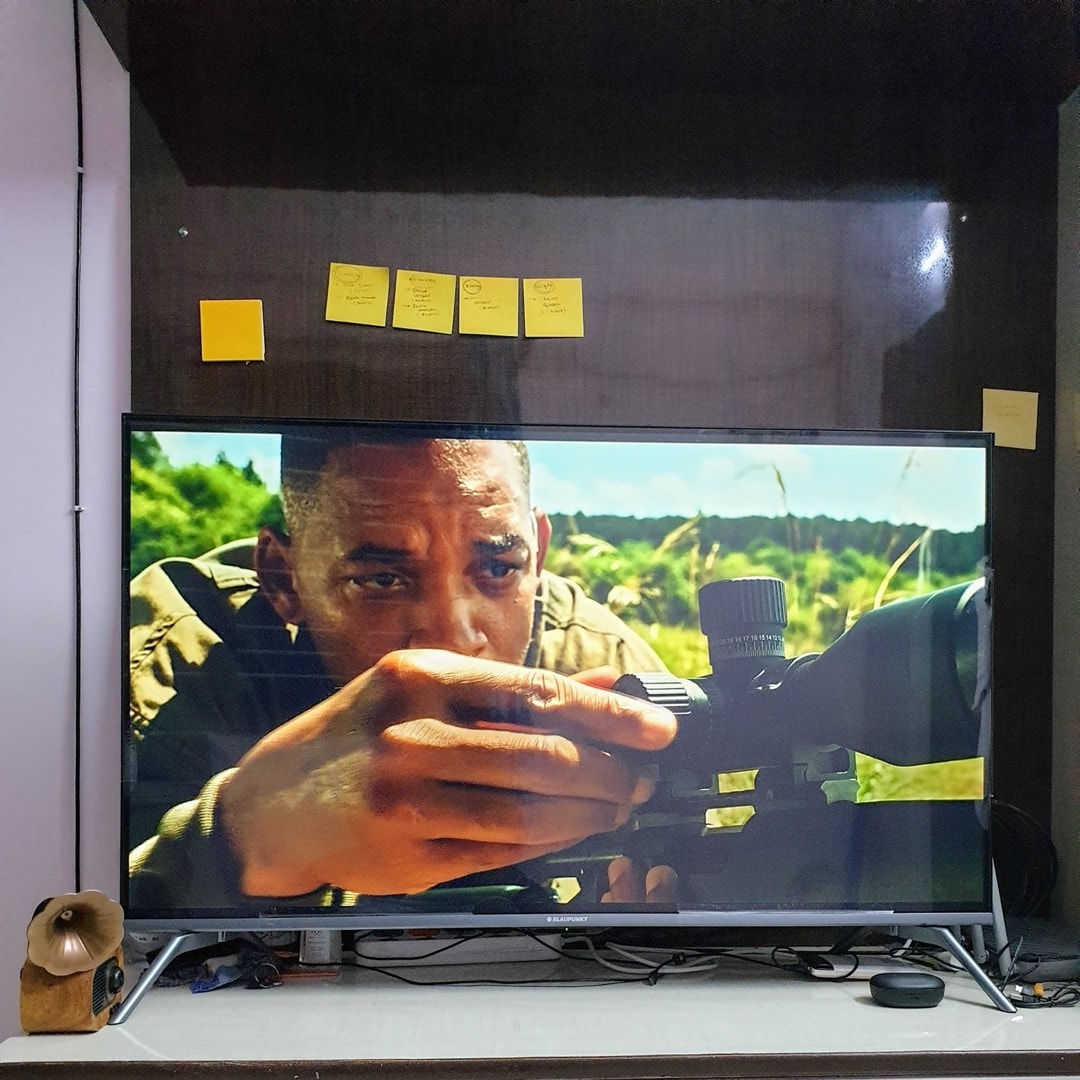 Why I feel this is, playing 1080p or full HD content is quite clear and does live up to the quality, which I also find in several other TVs I used.
I played 4K HDR content from the local media, and even then, the quality for my eyes isn't really up to my expectations. However, it's not the most inferior display I've seen. After a while, you get adjusted to the colors and light, and you won't notice any noise or such distractions. Again, what I really wish is to have a picture mode that automatically adjusts to the ambient lighting, and also adjusts the picture settings depending on the content I'm playing.
Audio – The Major Highlight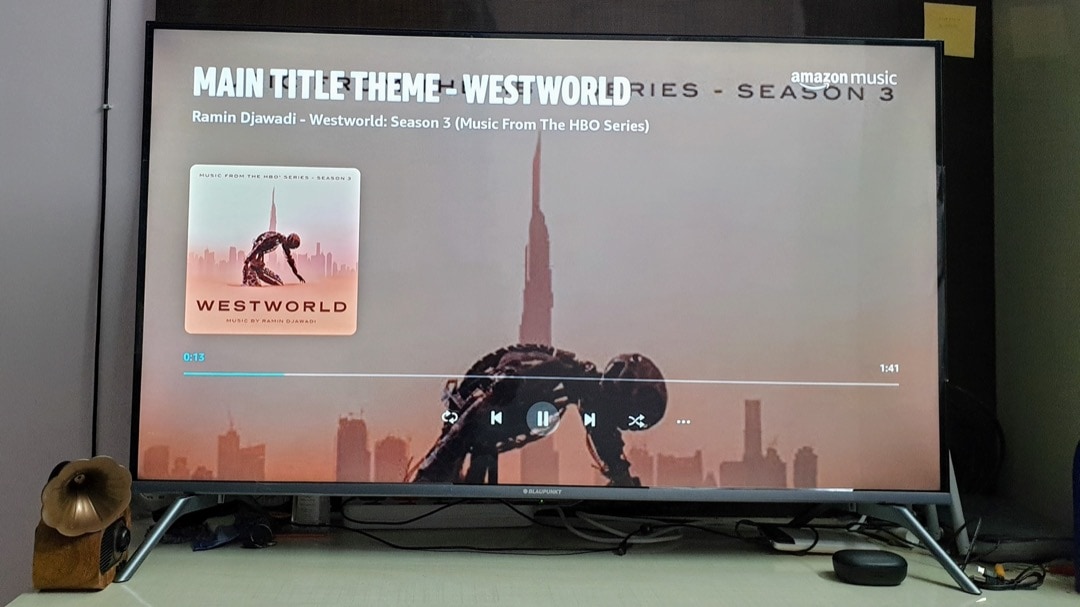 The company behind the TV is a German firm, which is known for its audio equipment. No wonder they nailed the audio element in the TV. I truly feel you really don't need a soundbar or any external speaker for such matters, as the in-built speakers are enough to produce a high-quality surround sound that enhances the experience. For me, it's both money and space saver. As I mentioned previously, I kept the audio settings in auto mode, and yes, the sound adjusts to the content that I'm playing. I'm a huge fan of Friends, and also started watching Atypical – both these web series have a different picture and audio formats, and you can easily notice the difference. The former is full HD content with DTS, and the latter is on 4K HDR with Dolby Digital. In both cases, the audio quality is quite superior to the most TVs I've seen. Haven't I told you already that it sports a 50W speaker? That's enough for home viewing.
I can talk more about the audio, but as mentioned, it's the major highlight on the TV, and so I can move on to other aspects I guess.
Performance
What really bugs me while using a smart tv is it gets sluggish or lags over a certain period. It could be due to various factors, and sometimes, you will notice the performance right off in the first few weeks. You may notice that apps get closed quite frequently, they may re-open again, and sometimes, they won't even open. Luckily, in the case of Blaupunkt Android tv, I've only noticed a few hiccups and nothing major.
Opening any Android application is quite faster compared to what I've observed in most smart TVs within the budget range of 35K. I've not seen any delay or lag while switching between apps either. However, after a while, Amazon's Prime Video stopped working. It doesn't load at all even after I cleared cache and memory, uninstalled updates, and re-installed. Nothing worked. I'm just hoping it's a temporary glitch, and would probably start working after an OTA or the app gets updated.
Other than that, I don't see any major issue in the performance end. I simply loved watching Friends, and other web series.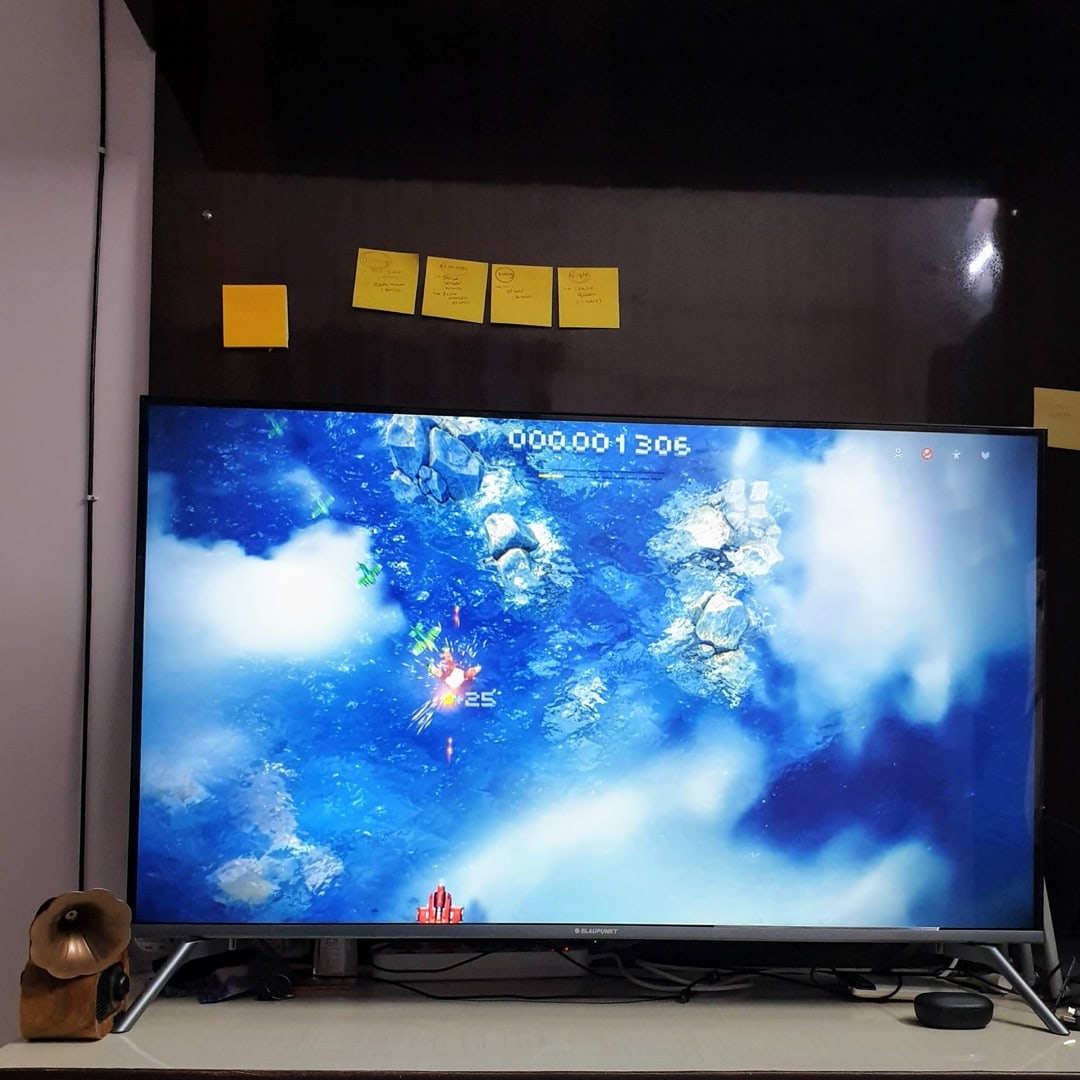 Even though I don't have a gamepad (which some OEMs are offering along with the purchase of a smart tv now), I did try a few games. Again, it's to see whether there's any anomaly in the performance, but I've not seen any such.
What I liked
Top-notch audio
Lag-free performance
What could have been better
better picture quality in 4K HDR
auto picture mode/settings
minimalistic remote
Verdict
Under 35K, there are a lot of smart TVs in the market with almost similar features and specifications, but what sets Blaupunkt Android TV (43CSA7070) apart is its amazing audio. So, if you're looking for a TV for your living room or you'd want to gift your parents, then I recommend purchasing this on Flipkart for Rs.30,999.
Blaupunkt 43-inch Android TV (43CSA7070) Review
Under 35K, there are a lot of smart TVs in the market with almost similar features and specifications, but what sets Blaupunkt Android TV (43CSA7070) apart is its amazing audio. So, if you're looking for a TV for your living room or you'd want to gift your parents, then I recommend purchasing this.